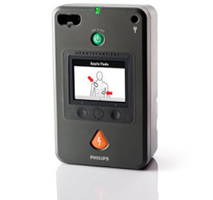 Philips HeartStart FR2 + Defibrillator
Starting at $2520.00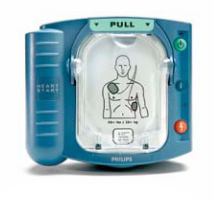 Philips HeartStart OnSite Defibrillator
Starting at $1365.00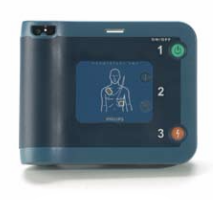 Philips HeartStart FRx Defibrillator
Starting at $1559.00

Ask us about our BUSINESS PACKAGE!
Philips is the global leader and trusted choice in automated external defibrillation -AED- technology. Provide your school, office, church or community peace of mind and invaluable life-saving preparedness with a Philips HeartStart Defibrillator
For Use on Infants & Children
HeartStart Defibrillators were the first automated external defibrillators available for use on children under 8 years old and/or 55 lbs.
Fast To Learn
Learning to use HeartStart Defibrillators is easy. In fact, with minimal instruction, naive sixth-grade students were able to deliver a shock in a mock SCA event in just 90 seconds. That is only 30 seconds longer than it took emergency medical personnel to administer a shock.
Accessories
Adult SMART Pads Cartridge
Infant/Child SMART Pads Cartridge
Fast Response Kit
Long Life Battery
Wall Mounting Solutions
HeartStart Trainer
Standard Carry Case
Slim Carry Case
Hard-Shell Carry Case
Call or E-mail us for Special Pricing on all our AED brands.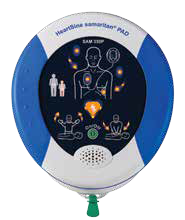 350P – Starting at $1245.00
360P – Starting at $1355.00
450P – Starting at $1395.00

Why HeartSine?
Easy to use due to simple two-button operation, intuitive voice/visual prompts and no lid to open or complex displays or controls Easy to use due to simple two-button operation, intuitive voice/visual prompts and no lid to open or complex displays or controls
Highest level of protection from dust and water (IP56) offers unmatched ruggedness in heavily trafficked areas, both indoors and outdoors
Significantly smaller size fits nicely within constrained storage spaces
Low acquisition and maintenance costs for consumables
An industry-leading warranty for low total cost of ownership
Complete AED solutions available to manage all aspects of your AED deployment
One-change maintenance for time-sensitive items, due to one expiration date on the pads and batteries, means less inventory to manage and order
SAM 450P CPR Rate Advisor™ detects the rate of CPR being applied via the defibrillator electrodes—without the addition of accelerometers (or pucks) commonly used in other AED solutions—to provide verbal, audible and visual feedback to guide the rescuer through the entire resuscitation process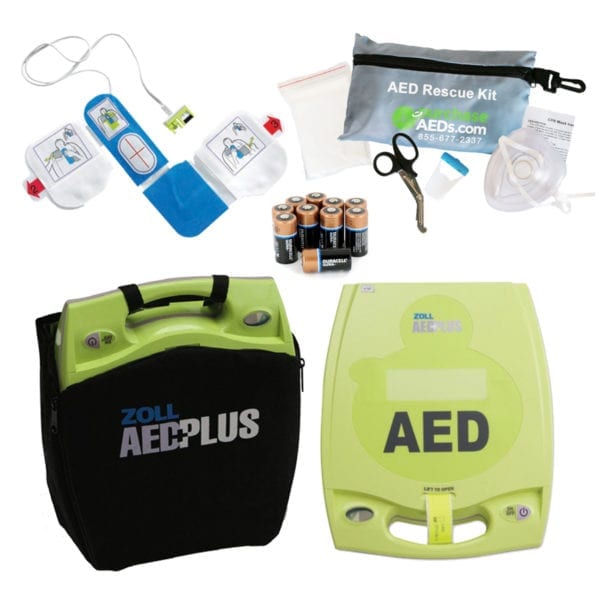 ZOLL AED Plus Portable Bundle
Empowering Rescuers – Empowering rescuers with Real CPR Help. The ZOLL® AED Plus® continues to set the benchmark for design, dependability, durability, and performance. Only half of sudden cardiac arrest victims will initially need a shock, but all require high-quality CPR. The AED Plus guides rescuers in performing high-quality CPR and will deliver a shock if needed.
Real CPR Help® technology provides real-time feedback on rate and depth of chest compressions and supports rescuers with integrated text, voice, and visual prompts. Five-year battery and electrodes mean fewer replacements, improved readiness, and the benefit of a low total cost of ownership.
User-Friendly Electrodes – Speed is of the essence when treating a cardiac arrest victim. ZOLL's CPR D-padz® electrodes feature a unique one-piece design to ensure fast and accurate placement. These electrodes come with a rescue accessory package, which contains scissors and other items that may be required.
Low Cost – The AED Plus can help your organization's bottom line. Once installed, the AED Plus has a low total cost of ownership, especially when considering the logistics of tracking and changing pads and batteries over the life of the AED. Thanks to the long shelf-life of the consumables, when you compare the cost of maintenance over 10 years, this is the most cost-effective AED to own. The AED Plus is powered by lithium batteries (available from retail outlets) that last five years, and the CPR-D-padz® electrodes last five years as well if not used.